For someone who makes such a big deal about food, author-turned-activist Jonathan Safran Foer '99 sure has a fairly low opinion of gustation. I don't quite agree with his hierarchy:
"Look, taste is clearly the crudest of our senses: this is scientifically, objectively factual. It is less nuanced. Eyesight is extraordinary – hearing, touch. I find people who devote their whole lives to taste a little strange." He stresses the last words as if this was a vast understatement.
[caption id="" align="alignright" width="219" caption="Veggie blues."]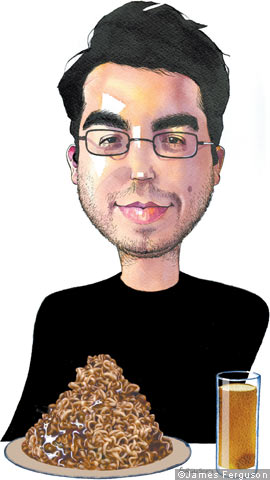 [/caption]
Perhaps Dining Services weren't in their finest form in the late '90s?
Well, a lot of things aren't quite right about this interview — it all sounds a little detached, a little demure. (He apparently checks his watch constantly and only answers questions in the negative.) Although if I were drinking something "the colour of manure" and considering food only in weighty philosophical terms–"symbols" or "the centre of stories"– I might be sort of down, too.
Cheer up, JSF. And maybe trade your dogma for a hot dog?
(image source: ft.com)